Friendly family run pub. Serving home cooked meals all day every day!
Home of the Giant Yorkshire Pudding!
Opening Hours
Tuesday - Friday 12pm - 8pm
Saturday 10am - 8:30pm
Sunday 10am - 6pm
The Crooked Billet pub is situated just outside the village of Saxton, just a stone's throw from the famous Battle of Towton fields.
Serving a selection of home cooked quality menus, the Crooked Billet is now a popular place to visit by all walks of life.
The Crooked Billet's famous Giant Yorkshire puddings have been served from the Billets kitchen
for over 30 years and long may it continue.
If you are looking for quality food served with a smile then look no further, The Crooked Billet Saxton ticks all of the boxes.
Our signature dish is a home cooked Giant Yorkshire pudding filled with choice of roast meats, potatoes, vegetables and gravy.
You could even take on the Yorkshire Pudding challenge.
Demolish 3 courses of Yorkshire pudding – a starter Yorkshire Pudding filled with gravy, a Giant Yorkshire pudding filled with all of the trimmings, then a dessert Yorkshire Pudding filled with Ice cream and toffee sauce. If you can manage this feast of Yorkshire delight, you will earn your face on The Crooked Billet wall of fame!!
We also serve our full weekend breakfast menu Saturday & Sunday 930am-1130am and coffee and homemade cake everyday!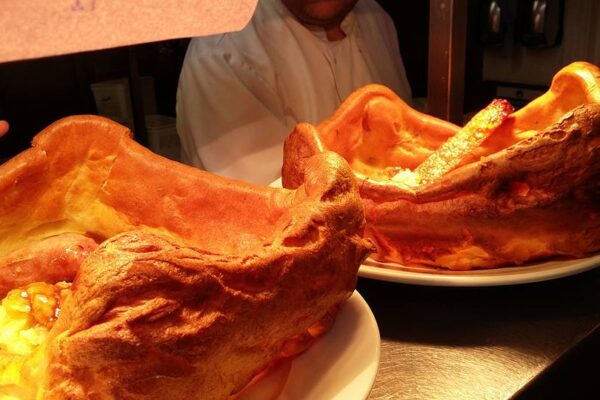 Other things you might like