It really is a Super September Weekend coming up with a fantastic choice of things to do – at the Heart of Yorkshire. With walking tours, open gardens, heritage days, live music, stand up comedy, family fun and more, you'll be spoilt for choice! Read on to find out what's coming up.
Sounds of Selby
Saturday 11th & 18th September, Selby town
Join the wandering minstrels from Northern Chamber Orchestra in Selby and help them to gather the 'Sounds of Selby', for a brand new piece that will be showcased at the spectacular Selby Town Hall in November.
Saturday 11th September, Tadcaster town
Enjoy a fabulous family day with 'Super SaTADay', when Tadcaster welcomes you back to the high street. With a huge Artisan market on Kirkgate/Westgate, YorkMix FM Roadshow, street performers, live bands, Youth Cafe, Skatepark at The Barn and more…there's something for the whole family.
Saturday 11th September, Selby Town Hall
It's fantastic to see live performances taking place at Selby Town Hall and this one is definitely worth the wait. Award-winning comedian, Paul Sinha will be entertaining the Town Halls' sold out audience on Saturday. Paul has appeared on Just A Minute and Fighting Talk on radio, and on QI and Taskmaster on television. A lifetime of curiosity and learning informs Paul's comedy and this has led to a concurrent career as a general knowledge expert on the ITV quiz show, The Chase.
Sunday 12th September, Stillingfleet Lodge Gardens
National Garden Scheme open gardens of quality, character and interest to the public, for charity and twice per year, Stillingfleet Lodge Gardens open as part of the scheme. Regular admission prices apply but your entry fees and 10% of plant sales will be donated to the NGS charity. All money taken from refreshments on the days will be donated to the magnificent St Helen's Church, in Stillingfleet.
At Stillingfleet Lodge in September you can expect to see stunning herbaceous borders, an autumn tint to the many small trees and  butterflies, making the most of the late summer food sources. You will be able to wander through all the different parts of the garden and gain inspiration for your own garden. Many of the plants you will see are available to buy in the  plant nursery and they're on hand to help you choose the right plant for your garden.
The tea room will be open too for drinks and cake. There will also be an art exhibition in the tea room and small locally sourced gifts for sale, as well as two acoustic sets by York-based singer-songwriter Tim Pheby during the afternoon.
Sunday 12th September, Towton Battlefield
Join the Towton Battlefield for a guided walk around Towton Battlefield. The guide will describe the events that lead up to this fateful day, the battles at Ferrybridge, Dintingdale and Towton and will lead the group around the area across which the rout took place.
10th – 19th September, various locations across Selby town
Join England's largest festival of history and culture. Selby is being opened to residents as part of the national Heritage Open Days scheme to reveal hidden historic places and stories. This year Selby is putting on a range of events for people to enjoy, including a tour of Selby Abbey in a fantastic Minecraft model, a view of stained glass from famous painter, Jean-Baptiste Capronnier, met and greets with local history and archaeology groups to find out about archaeological digs they're carrying out in the fantastic Abbot's Staith building, traditional crafts, food and drink, dress, history and heritage displays at Selby Abbey's Medieval Day, guided walks and talks – and much more all in 10 days!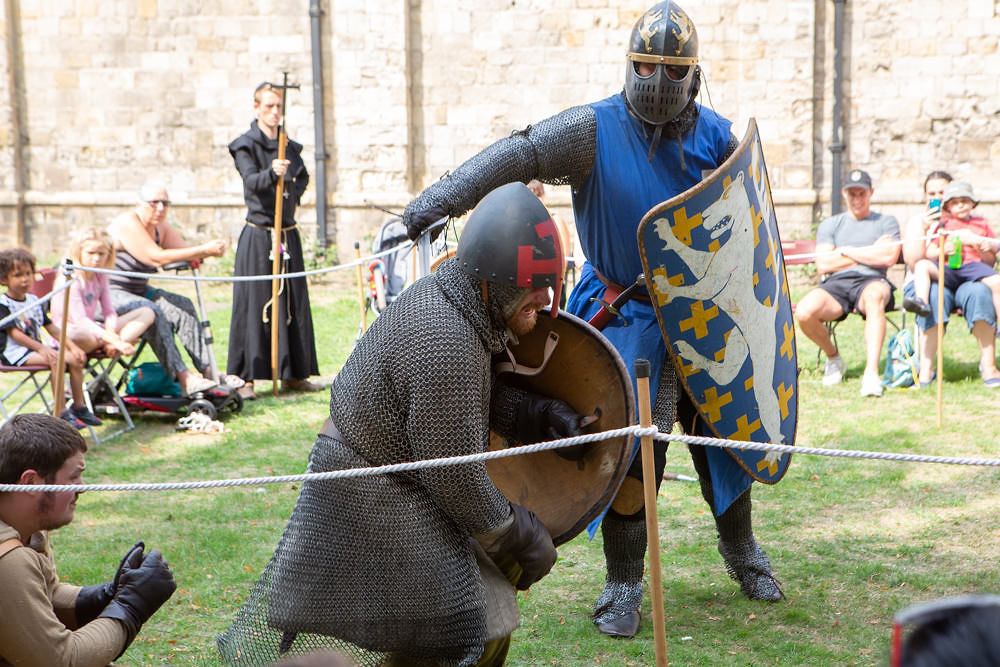 Visit the What's On section of the website to browse what else there is coming up across the year and don't forget, if you are out and about in the District, tell us about it, use #HeartofYorkshire and tag us on social media Facebook, Instagram or Twitter.
Enjoy exploring at the Heart of Yorkshire.